BM Series(Small Diameter Armature,Thin/Median Wire,High Speed)
BMA-242 Type
CNC Drive 4 Flyer Head Winding Machine for Armature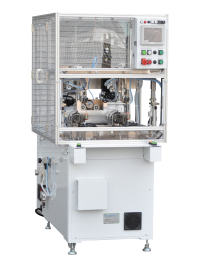 Basic Feature
High performance・High efficient winding machine developed for small armature with thin wire.
Collet chuck used on shaft chuck part will hold the item absolutely.
Automated hooking, wrapping to terminal and wire-cut.
4 stator production at once.
Common Feature
High-performance AC servo motor for all drive axes and dedicated winding controls for Bestec will achieve high speed and precision winding.
Former finished by experienced engineer will provide high quality winding.
Turn table system as standard equipment. Stator could be changed during winding.
Automation lines are available with other process including fusing. Please contact for any interest.
MACHINE SPECIFICATIONS
| | |
| --- | --- |
| MODEL | BMA-242 |
| WOUNDABLE ITEM | ARMATURE MOTOR |
| NUMBER OF WINDING HEAD | 2 |
| FLYER PITCH | 250mm |
| DRIVE AXES | 4-Axes |
| CONTROL | AC SERVO FOR ALL AXES |
| WINDING SPEED | MAX 5000rpm |
| WOUNDABLE WIRE SIZE | MAX φ0.5mm |
| WOUNDABLE CORE DIAMETER | MAX φ60mm |
| WOUNDABLE CORE HEIGHT | MAX 40mm (EXCLUDING SHAFT) |
| WIRE CUT | NIP&CUTTER / AIR NIPPER |
| TENSION DEVICE | MANUALLY ADJUSTABLE MAGNET BREAK(NC ADJUSTABLE:OPTION) |
| MAIN POWER SUPPLY | AC 3-phase 200V |
| PNEUMATIC SUPPLY | 0.4 – 0.6MPa |
| MACHINE SIZE (mm) ※ WITHOUT TENSION DEVICE | 800W x 1400L x 1850H |
| MACHINE WEIGHT | 450kg |
| LOAD/UNLOAD | MANUAL (TURN TABLE AS STANDARD) |
| SAFETY GUARDS | FRONT AREA SENSOR/SAFTY COVER ETC. |
| OPERATION | ON TOUCH PANEL |