BS series(Bobbin/Segment Core, Thin/Median Wire, High Speed)
BS-520/540/560/580
CNC Vertical Spindle Winding Machine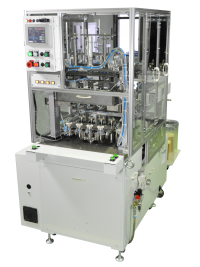 Basic Feature
Original method of setting target item, not horizontally but vertically, will achieve high speed and stable perfect winding.
Variety of spindle pitch and number of spindles are available to fit the bobbin size and production volume.
Common Feature
High-performance AC servo motor for all drive axes, dedicated winding controls for Bestec are installed.
Wire routes are set to the height of workers view for better working property.
Turn table system as standard equipment. Bobbins could be changed during winding.
Twist unit, coat peeling unit, terminal calking unit could be added as option.
Automation lines are available with other process. Please contact for any interest.
MACHINE SPECIFICATIONS
MODEL
BS-520
BS-540
BS-560
BS-580
WOUNDABLE ITEM
BOBBIN / SEGMENT CORE
NUMBER OF WINDING HEAD
1
2
2
4
6
8
6
4
8
12
DRIVE AXES
4-AXES
CONTROL
AC SERVO FOR ALL AXES
SPINDLE PITCH (MM)
-
80
160
80
52
40
80
132
80
52
WINDING SPEED
MAX 15000 (DEPENDING ON ITEM)
WOUNDABLE WIRE SIZE
MAX φ0.5mm (THICK WIRE VERSION: MAXφ1.0)
WIRE CUT
NIP & CUTTER / AIR NIPPER
TENSION DEVICE
MANUALLY ADJUSTABLE MAGNET BRAKE (NC ADJUSTABLE: OPTION)
MAIN POWER SUPPLY
AC 3-PHASE 200V 2KVA
PNEUMATIC SUPPLY (MPA)
0.4 – 0.6
MACHINE SIZE (mm) ※ WITHOUT TENSION DEVICE
750W x 2200L x 1900H
900W x 2200L x 1900H
1200W X 2200L X 1900H
1300W x 2200L x 1900H
MACHINE WEIGHT (KG)
550
650
1400
900
LOAD / UNLOAD
MANUAL (TURN TABLE SYSTEM AVAILABLE)
SAFETY GUARD
FRONT AREA SENSOR/SAFTY COVER ETC…
OPERATION
ON TOUCH PANEL