BS series(Segment core / Segment bobbin,Square Wire,Median Speed)
BS-1700
CNC Vertical Spindle Winding Machine for Square Wire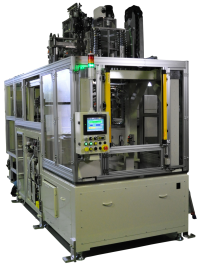 Main Feature
Winding machine for winding Square wire to Segment core or bobbins.
All drive axes of maximum of 30 axes have AC servo motor, dedicated winding control for Bestec are installed.
Dedicated servo tension will achieve speed and stability of in-line winding.
Produces 1 wound stator at once.
Square wire could be wound with higher density than ordinary round wire, it could achieve to improve fill factor, which will make motor high power, smaller, lighter and more efficient.
Available with core feeding machine, building machine, wire connecting machine, checking machine and so on. Not only stand-alone machine but also available of automation line.
MACHINE SPECIFICATIONS
| | |
| --- | --- |
| MODEL | BS-1700 |
| WOUNDABLE ITEM | SEGMENT CORE/SQUARE BOBBINE |
| NUMBER OF WINDING HEAD | 1 |
| DRIVE AXES | MAX 16-AXES |
| CONTROL | AC SERVO FOR ALL AXES |
| WINDING SPEED | MAX 250rpm |
| WOUNDABLE WIRE SIZE | MAX 3.0mm x 3.0mm |
| WIRE CUT | AIR NIPPER |
| TENSION DEVICE | SERVO TENSION |
| MAIN POWER SUPPLY | AC 3-PHASE 200V |
| PNEUMATIC SUPPLY | 0.4 – 0.6Mpa |
| MACHINE SIZE (mm) ※ WITHOUT TENSION DEVICE | 1900W x 3700L x 3200H |
| MACHINE WEIGHT | 6000kg |
| LOAD / UNLOAD | MANUAL |
| SAFETY GUARD | FRONT AREA SENSOR/SAFTY COVER ETC… |
| OPERATION | ON TOUCH PANEL |