BX Series(Medium Inner Slot/Outer Slot,Thin Wire/Medium Wire,High Speed)
BX-2000-2W Type
2 Heads CNC Nozzle Drive Winding Machine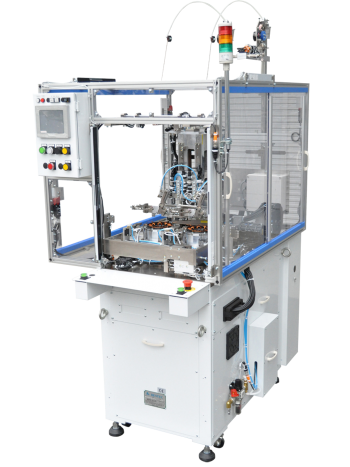 Basic Feature
This machine is adopted to many items general size of outer diameter around 100mm.
Bestec original nozzle rotation unit will provide high speed and precision motion of winding-routing-wrapping without loose of copper wire.
1 winding head and 2 winding head could be selected.
This machine could also be used for test machine by order.
Common Feature
High-performance AC servo motor for all drive axes, dedicated winding controls for Bestec are installed.
High speed and precision winding will be done by AC servo motor on each axes.
Could be used for not only for inner slot stator, but also for outer slot stator.
Other unit could be added by option.
Auto stator load/unload units are available for automation line.
Automation lines are available with other process. Please contact for any interest.
MACHINE SPECIFICATIONS
| | |
| --- | --- |
| MODEL | BX-2000 |
| TYPE | 2W |
| WOUNDABLE ITEM | INNER SLOT / OUTER SLOT |
| NUMBER OF WINDING HEAD | 2 (1 HEAD IS SELECTABLE) |
| DRIVE AXES | 5-AXES |
| CONTROL | AC SERVO FOR ALL AXES |
| SPINDLE PITCH (MM) | 200mm |
| WINDING SPEED | DEPENDING ON ITEM |
| WOUNDABLE WIRE SIZE | MAX φ1.5mm |
| VERTICAL GUIDE LENGTH | 200mm |
| WIRE CUT | NIP & CUTTER / AIR NIPPER |
| TENSION DEVICE | MANUALLY ADJUSTABLE MAGNET BREAK(NC ADJUSTABLE:OPTION) |
| MAIN POWER SUPPLY | AC 3-PHASE 200V |
| PNEUMATIC SUPPLY | 0.4 – 0.6MPa |
| MACHINE SIZE (mm) ※ WITHOUT TENSION DEVICE | 950W × 1600L × 2000H |
| MACHINE WEIGHT | 550kg |
| LOAD/UNLOAD | MANUAL |
| SAFETY GUARDS | FRONT AREA SENSOR/SAFTY COVER ETC… |
| OPERATION | ON TOUCH PANEL |