BX Series(Median/Large Diameter Outer Slot Stator,Thin/Median Wire,High Speed)
BX-3001NC Type
CNC 3 Nozzle Drive Winding Machine for outer slot stator.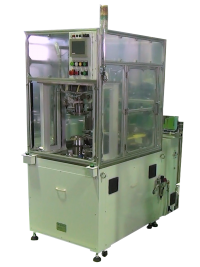 Basic Feature
Dedicated for outer stator, DD motor for washing machine etc.
Deferent from ordinary cam drive, all drive axes have AC servo motor for flexibility and oil less for easy maintenance.
Maximum of 3 nozzle will be used for winding.
This machine will produce 1 wound stator at once.
Common Feature
High-performance AC servo motor for all drive axes, dedicated winding controls for Bestec are installed.
Other unit could be added by option.
MACHINE SPECIFICATIONS
| | |
| --- | --- |
| MODEL | BX-3001NC |
| WOUNDABLE ITEM | OUTER SLOT STATOR |
| NUMBER OF WINDING HEAD | 1 |
| DRIVE AXES | 4-AXES |
| CONTROL | ALL AXES AC SERVO MOTOR |
| WINDING SPEED | DEPENDING ON ITEM |
| WOUNDABLE WIRE SIZE | MAX φ1.0mm |
| WIRE CUT | AIR NIPPER |
| TENSION DEVICE | MANUALLY ADJUSTABLE MAGNET BREAK(NC ADJUSTABLE:OPTION) |
| MAIN POWER SUPPLY | AC 3-Phase 200V |
| PNEUMATIC SUPPLY | 0.4 – 0.6MPa |
| MACHINE SIZE (mm) ※ WITHOUT TENSION DEVICE | 800W × 1500L × 1850H |
| MACHINE WEIGHT | 750kg |
| LOAD/UNLOAD | MANUAL |
| SAFETY GUARDS | FRONT AREA SENSOR/SAFTY COVER ETC… |
| OPERATION | ON TOUCH PANEL |