BX Series(Folding Core,Median Wire/Thick Wire,Median/High Speed)
BX-2000-T Type/BX-2000-S Type
CNC Nozzle Drive Winding Machine for Folding Core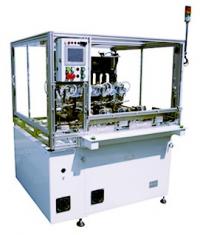 Basic Feature
Winding machine for folding core or connected segment core.
T-Type is for median wire diameter, high speed and accurate winding will be done by synchronous drive of winding item and nozzle.
T-type could be selected between 1 stator or 2 stator production at once.
T-Type have Bestec original nozzle rotation unit will provide high speed and precision motion of winding-routing-wrapping without loose of copper wire.
S-Type is for thick wire diameter, accurate winding by moving the nozzle.
S-type will produce 1 wound stator at once.
Common Feature
High-performance AC servo motor for all drive axes, dedicated winding controls for Bestec are installed.
Other unit could be added by option.
Auto stator load/unload units are available for automation line.
Automation lines are available with other process. Please contact for any interest.
MACHINE SPECIFICATIONS
MODEL
BX-2000
TYPE
1T
2T
S
WOUNDABLE ITEM
FOLDING CORE/SEGMENT CORE
NUMBER OF WINDING HEAD
1
2
1
DRIVE AXES
4-AXES
5-AXES
4-AXES
CONTROL
ALL AXES AC SERVO MOTOR
SPINDLE PITCH (MM)
-
250mm
-
WINDING SPEED
DEPENDING ON ITEM
WOUNDABLE WIRE SIZE
MAX φ1.0mm
MAX φ1.0mm
MAX φ3.0mm
WIRE CUT
NIP & CUTTER / AIR NIPPER
TENSION DEVICE
MANUALLY ADJUSTABLE MAGNET BREAK(NC ADJUSTABLE:OPTION)
MAIN POWER SUPPLY
AC 3-phase 200V
PNEUMATIC SUPPLY
0.4 – 0.6MPa
MACHINE SIZE (mm) ※ WITHOUT TENSION DEVICE
1000W × 1600L × 1300H
1200W X 16000L X 2100H
MACHINE WEIGHT
750Kg
900Kg
1200Kg
LOAD/UNLOAD
MANUAL
SAFETY GUARDS
FRONT AREA SENSOR/SAFTY COVER ETC…
OPERATION
ON TOUCH PANEL